Best Foundation & Weatherproofing Coating Sprayers 2021
Applying foundation and weatherproofing coatings often requires large sprayers to be able to effectively deliver coating.  Additionally, when you're spraying foundation or weatherproofing coatings, you are often working with a very long hose to deliver the product from a job trailer to the work area.  With all these challenges to contend with, it is important to choose a paint sprayer that will be sufficient to allow you to do the work efficiently and effectively.
What to Know Before Choosing a Foundation & Weatherproofing Coating Sprayer
Before  selecting a specific foundation or weatherproofing coating sprayer,  you should check the technical  datasheets for the exact foundation coatings you typically use.  The majority of coatings will have a technical  datasheet that helps you know the GPM and PSI you will need from your paint sprayer to allow the coating to be delivered and broken up by the sprayer.  However, if you aren't quite sure which coatings you will use, for most foundation coatings, you need 4000 PSI with a large GPM output.  For some products, 3000 PSI and  17 thousandths tip will be sufficient.  Additionally,  some foundation coatings  are not recommended to be sprayed but rather it is recommended to brush or roll them.  If you have determined your foundation and weatherproofing coating can be sprayed, you can consider the options below.
Favorite Rigs for Foundation Coating Spraying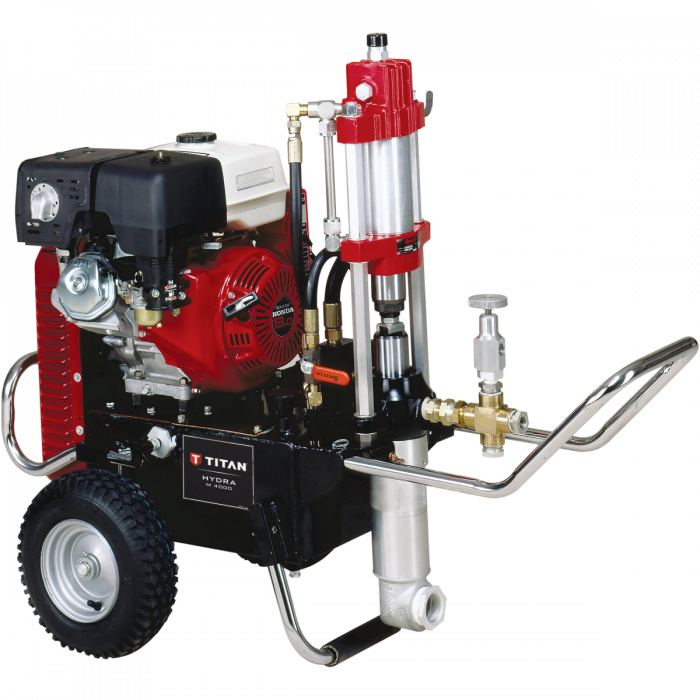 HYDRA M4000 4000 PSi @ 3.30 GPM 390cc Honda GX390 3/4" Outlet Model Gas Airless Paint Sprayer

The Hydra M 4000 Non-Filtered Model can be ideal for Foundation coatings.  The 4000 PSI and 3.3 GPM output will allow it to spray almost any sprayable foundation coating.  Having no filters in the outlet manifold allows for spraying thick heavy-bodied coatings without plugging.  The Hydra M 4000 doesn't come with Hose or an airless spray gun; this has to be purchased separately.  The hydraulic-powered fluid section provides a lot of power and performance to spray thick coatings. The sprayer comes standard with an electric start motor, making it ideal for cold-weather starting.
Graco GH 833 4000 PSI @ 4.0 GPM Gas Hydraulic Sprayer, Big 250 System - Cart

The Graco GH 833 sprayer is a foundation coating rig that uses a hydraulic fluid section as well.  It also produces 4 GPM of fluid output at 4000 PSI making it a bit larger than the Hydra M 4000.  The GH 833 is available as a pull -start or electric -start option.  Since the motor is a 13 horsepower engine, an electric start can be ideal for cooler climates or ease of operation.  The pump comes with a 50-foot-long  hose and an airless spray gun.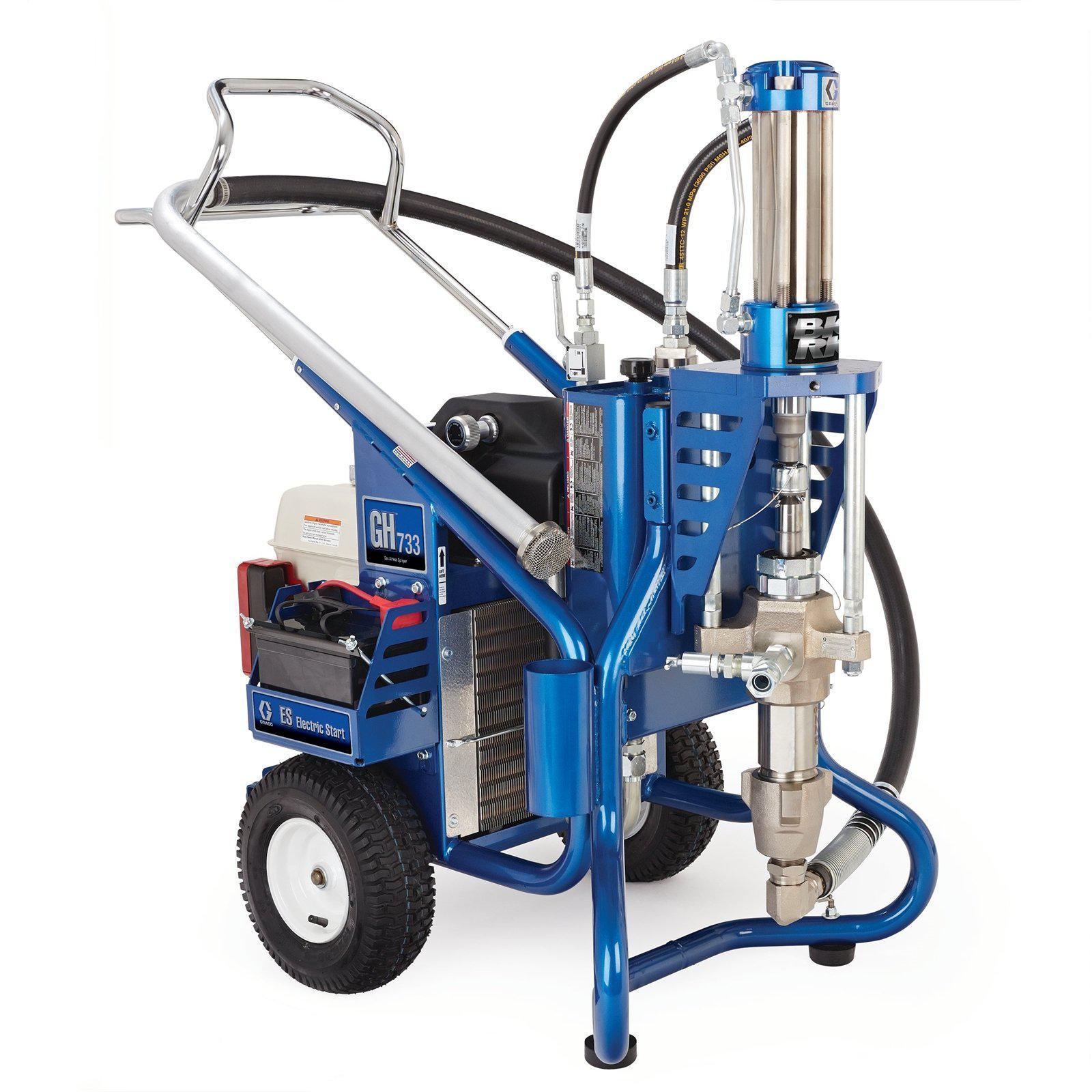 Graco GH 733ES 4000 PSI @ 4.0 GPM Gas Hydraulic Airless Sprayer - Bare

The Graco GH 733 is similar to the Graco GH 833 but offers a fluid section that can be changed out for a higher flow lower GPM output at a lower PSI.  This makes this rig a bit more versatile. However, you do pay more for the additional versatility.  Much like the GH 833, it is available in electric- start or pull -start designs.