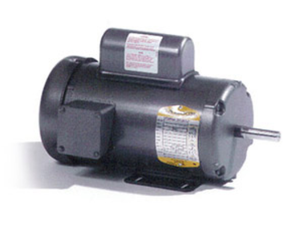 PAINT BOOTH MOTORS
2HP  MT020-DV1-145T Dual Volt
All AC, polyphase induction motors are mounted on standard NEMA frame bases and are available in explosion-proof and totally enclosed, fan-cooled types. All motors feature ball-bearing construction, heavy-duty, corrosion-resistant housings and bearing brackets.

Rotors and shafts are dynamically balanced to assure smooth, vibration-free operation. Inner races are locked to shaft outer races to end brackets, reducing endplay and maintaining alignment for V-belt drives. Windings are designed for long, dependable life under adverse operating conditions. Integral rotor fans in enclosed types direct cooling air over windings, reducing noise and prolonging motor life. Conduit boxes have ample hand room for easy accessibility and quick connection of leads.

All motors conform to state and local fire and safety regulations and may be mounted in either a vertical or horizontal position. Motors are rated for exhaust fan units at 1750 RPM
STANDARD
Superior to open drip-type motors, completely enclosed, fan-cooled motors come standard in all GFS products. They are UL approved.
87442325539
82843140131
301690323135
298998399167
298998202559
82843172899
82918047779
115/230V
2HP
all other products
bf2023
Single Phase
spo-default
spo-disabled
Standard Motor
;