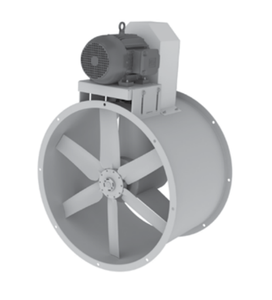 TUBE AXIAL EXHAUST FANS (ATA MODELS)
GFS' tube axial fans are the ideal choice for installations with straight-through airflow in ducted or non-ducted systems. The tube axial fans are designed for commercial and industrial applications in which low to medium air volumes are required at lower pressures. Units come pre-assembled and include variable-pitch motor sheaves for maximum operating efficiency and on-site adjustment.
| | |
| --- | --- |
| Part no. | ATA-24 |
| A. Inside Dim | 24.25" |
| B.  Mounting Bolt | 25.50" |
| C.Outside Dim. | 27.13" |
| D. Ring to Ring  | 19.50"  |
Performance shown is for installation type B: free inlet, ducted outlet. Power rating (BHP) does not include drive losses. Performance ratings do not include the effects of appurtenances in the airstream. This product is certified to bear the AMCA seal for air performance.
Sound pressure range listed is A-weighted at a distance of 5 feet from the fan with a directivity factor of Q=2 (hemispherical radiation) and has been tested per AMCA standard 303. The range covers the minimum and maximum air performance points shown. Lowest sound pressure level is for the lowest airflow rate (CFM) at the lowest static pressure (SP). Highest sound pressure level is for the highest airflow rate (CFM) at the highest static pressure (SP).
PAINT BOOTH MOTORS
All AC, polyphase induction motors are mounted on standard NEMA frame bases and are available in explosion-proof and totally enclosed, fan-cooled types. All motors feature ball-bearing construction, heavy-duty, corrosion-resistant housings and bearing brackets.

Rotors and shafts are dynamically balanced to assure smooth, vibration-free operation. Inner races are locked to shaft outer races to end brackets, reducing endplay and maintaining alignment for V-belt drives. Windings are designed for long, dependable life under adverse operating conditions. Integral rotor fans in enclosed types direct cooling air over windings, reducing noise and prolonging motor life. Conduit boxes have ample hand room for easy accessibility and quick connection of leads.

All motors conform to state and local fire and safety regulations and may be mounted in either a vertical or horizontal position. Motors are rated for exhaust fan units at 1750 RPM
EXPLOSION-PROOF
Featuring a corrosionresistant epoxy finish, as well as a UL listed conduit box, explosion-proof motors are a safety feature for hazardous locations. They are UL listed for Class I, Group D and Class II, Groups F and G
 * - This represents the lowest possible CFM at a particular static pressure due to instability of the fan curve. The drive sheave cannot be set below a certain RPM for the ratings.