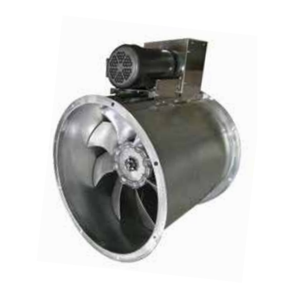 24" Tube Axial Paint Booth Fan w/ 1HP Dual Volt Single Phase Standard Motor
24" TUBE AXIAL EXHAUST FANS 
GFA models of GFS' tube axial fans feature continuously welded housing for an airtight seal. The propellers are non-sparking cast aluminum, providing consistent air velocity at higher static pressures. The universal motor plates allow for adjustable belt tensioning. The bearings are of premium air handling quality, self-aligning and have an L10 life of 40,000 hours. The belt guard provides protection from the rotating pulley, per OSHA requirements.
| | |
| --- | --- |
| Part no. | GFA-24 |
| A. Ring to Ring | 30" |
| B. Inside Dim | 24" |
| C. Mounting Bolt | 25 1/2" |
| D. Outside Dim. | 26 7/8" |

Note: Sound level data given in the fan chart was obtained under laboratory conditions. It is not likely that these results will permit determination of sound power in all site conditions.
Data published in this chart may be used for the following purposes:

Comparison of fans that are similar in type and size.
Scaling down fan noise from one size and speed to another size and speed.
Depending on the application, configuration of the apr duct, attention characteristics of material used, and acoustical condition, etc., the reduction in dB will vary.
Manufacturer Warranty: 12 Months
PAINT BOOTH MOTORS
All AC, polyphase induction motors are mounted on standard NEMA frame bases and are available in explosion-proof and totally enclosed, fan-cooled types. All motors feature ball-bearing construction, heavy-duty, corrosion-resistant housings and bearing brackets.

Rotors and shafts are dynamically balanced to assure smooth, vibration-free operation. Inner races are locked to shaft outer races to end brackets, reducing endplay and maintaining alignment for V-belt drives. Windings are designed for long, dependable life under adverse operating conditions. Integral rotor fans in enclosed types direct cooling air over windings, reducing noise and prolonging motor life. Conduit boxes have ample hand room for easy accessibility and quick connection of leads.

All motors conform to state and local fire and safety regulations and may be mounted in either a vertical or horizontal position. Motors are rated for exhaust fan units at 1750 RPM
STANDARD
Superior to open drip-type motors, completely enclosed, fan-cooled motors come standard in all GFS products. They are UL approved.