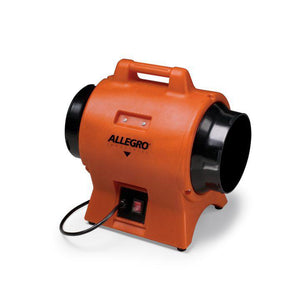 Axial Confined Space Fan, 1/3 hp HP, 115V AC Voltage, 3,400 RPM Blower/Fan Speed

This lightweight, portable single phase motor blower is ideally suited for light industrial or utility confined space applications. Super quiet, "safety orange" color, molded carry handle and enclosed electrical components with built-in On/Off switch are features that make this such a valuable blower. Stackable design allows for multiple units to be used in minimum space. Ducting can be added to both inlet and outlet side of blower for ventilation or extraction purposes.
This lightweight, portable axial blower delivers both positive and negative airflow to help clear away dangerous fumes from large, confined spaces. Use in paper mills, tank purging, or utility sites. The UV-resistant, chemical-resistant polyethylene case is stackable and has a molded handle for easy carrying and storage. Single phase. Safety orange color helps unit be seen in low-visibility, smoky environments.