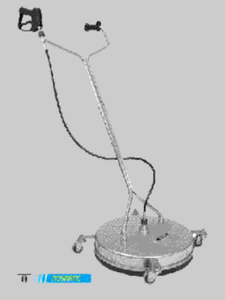 80.771 MOSMATIC 21" COMMERCIAL S.S.SURFACE CLEANER W/WHEELS
The perfect cleaner for any type of contractor work. The stainless steel castors guarantee an effortless cleaning experience even for extended use.
Clean sidewalks, parking lots, tennis courts, shop floors, patios or any other large surface.

High RPM stainless steel Mosmatic swivel features reinforce sulflubricated stainless steel ball bearings for improved performance. The dual spring based carbide seal system guarantees long-lasting operation under tuff conditions.

Four premium quality 2-1/4" stainless steel castors with custom mounting brackets ensure easy maneuvering, extended life and performance under harsh working conditions.
Specifications
21" stainless steel housing
4000 PSI maximum pressure
250 F maximum temperature
2 Nozzle spray arm
Two #1503 nozzles
Relax action gun
Weight: 24 lbs.
87442325539
296175763647
82843140131
301690323135
82843172899
82898845731
21 inch
250°F
4000 PSI
bf2023
Cold
COLD/HOT
Hot
pmax ad rotary surface cleaners
Professional
spo-default
spo-disabled
With Surface Handle
;