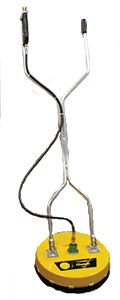 CLASSIC SURFACE CLEANER WITH 4 NOZZLE ROTOR BAR AND 3/8" HOSE
The leading flat surface cleaner of the industrial pressure washing industry. Provides high quality components integrated with superior engineering design to provide an ergonomical, easy to use flat surface cleaner only a quick disconnect away from your pressure washer.
Collapsible at mid section and only 19 lbs, the Classic comes Whisper Wash's signature balanced spray bar and twin thrust bearing swivel design. The Classic's lightweight floating cover eliminates operator fatigue and increases safety.
FEATURES:
Quick connection
Trigger gun controlled
Portable breakaway handle
Lightweight floating cover
Balanced and machined spray bar
Hot or cold water applications.
Specifications
4 NOZZLE SPRAY BAR with 2 ports plugged
3/8" ID pressure hose
Operating Pressure: 2,000 to 4,000 PSI
4-10 GPM flow rate
Maximum Temperature: 212 F
Maximum RPM: 2500
Operating Weight: 24 lbs
Shipping Weight: 28 lbs
Dimensions: 77" x 19" x12"
If you wish to use all 4 nozzle ports you need to order 2 more spray nozzles. Only 2 nozzles come with the machine.
87442325539
296175763647
82843140131
301690323135
82843172899
82898845731
10gpm
19 inch
212°F
4
4000 PSI
bf2023
Cold
COLD/HOT
Hot
not canada
pmax ad rotary surface cleaners
Prosumer
spo-default
spo-disabled
With Surface Handle
;