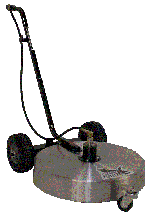 STEEL EAGLE 24" SURFACE CLEANER
Maximize your pressure  washers effectiveness!
Optional gun and lance can be detached to clean corners Inset wheels to allow cleaning of edges
Front mounted swivel caster allows easy handling & turning Two 1/4 meg 15 degree nozzles standard
Three nozzle spinner available
•Maximum Pressure: 4000 PSI
•Minimum Pressure: 1500 PSI
•Maximum Flow: 8 GPM
•Minimum Flow: 3 GPM
•Maximum Temp. 210°F.
•Maximum Speed: 2000 RPM
•Cleaning Path: 24"
•Approx. Ship Wt: 53 lbs.
87442325539
296175763647
82843140131
301690323135
82843172899
82898845731
210°F
24 inch
3
4000 PSI
8gpm
bf2023
Cold
COLD/HOT
Hot
not canada
pmax ad rotary surface cleaners
Professional
spo-default
spo-disabled
With Surface Handle
;