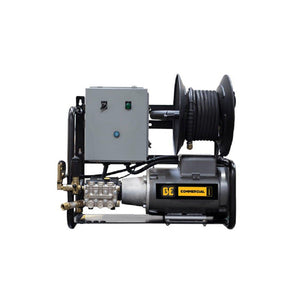 PW,ELEC,WALL MOUNT,2000PSI HIGH TEMP, 4GPM, 230V, 3PHASE

X-2050FW3GENHT2 commercial electric pressure washer by BE Power Equipment.
General Emperor "HT" Series Triplex Pump - up to 180°F Hot Water

2000psi 4.0gpm

5Hp 220Volt Baldor Motor - Three Phase - 16amp

Powerful, industrial, reliable, USA made.

Automatic shutdown control box wired to motor. Auto on/off.
A thermal relief valve helps to keep the pump cool.

Industrial Triplex Pump - 5 year limited warranty on Triplex Pumps
Included:
Spray gun & lance

 

with universal quick connect outlet. Variety of quick connect tips are easy to change.
50ft High pressure hose

 

mounted to hose reel with universal quick connectors. Easily add extra lengths of hose as required.
Includes Quick Connect Spray Tips

 

- 0, 15, 40 Degree and Low Pressure Soap
Detergent and Soap Injector -

 

Apply pressure washer compliant detergents at low pressure