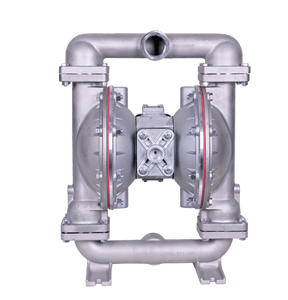 Description
Binks Gemini II Diaphragm Pumps are the premier pumps for spraying, transferring, or circulating a variety of coatings. the pump design provides consistent spray patterns for high quality finish applications. The Gemini II pumps are rugged and designed to provide longer pump life.

Advantages

Pumps Shear-Sensitive Materials
Low internal velocities and gentle pumping action does not shear coating
Pumps High to Low Viscosity Material
Seal-Less
No mechanical seals or packing to leak
Runs Dry without Damage or Heat Build-up
No internal damage
Variable Flow and Pressure
Regulate the inlet air supply to adjust the pump flow from zero to maximum rated capacity
Fully Groundable
CE and ATEX Certified
Application
The Binks Gemini II Diaphragm Pumps are ideal for variety of materials and viscosities. Gemini II pumps can be used in applications including Wood, General Metal Fabrication and Adhesives.
The largest Diaphragm pump from Binks offers up to 106 GPM at maximum delivery rate.
Designed with a maximum of 106 GPM this pump is well suited for high volume diaphragm pump applications.
Click Here For Binks Gemini II pump Service Information - 41-818810
 Click Here For Binks Gemini II Sales Information