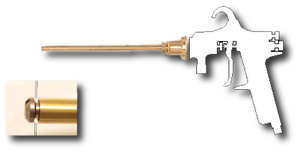 Used to coat the inside diameter of 3/4" to 12" pipe.
Needs to be pressure fed from a pressure tank, pump or pressure cup.
360 degree spray pattern
Fits through a 3/8" clearance hole.
Best suited for thin to medium viscosity materials.
Long needle shuts material off at the tip.
Useable length of extension is approximately 1-1/2" shorter that extension length.
IMPORTANT NOTE:
Longer lengths are available custom order
Extensions can be purchased with or without the spray gun
Most extensions can ship in 2 weeks or less
Call for pricing
87442325539
82843140131
156000714775
82913919011
286263345343
301690323135
82843172899
"SC" Extension (Thin Viscosity Materials)
27 in.
all other products
bf2023
not canada
spo-default
spo-disabled
;