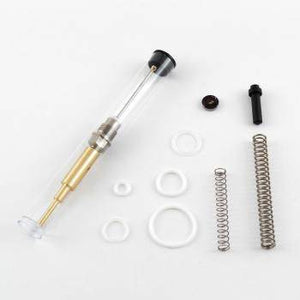 10-113 Cougar AAA Gun Repair Kit. C.A. Technologies OEM part 10-113 Repair Kit for Cougar Air Assisted Airless Spray Gun.
Replacing needle assembly:
1. Remove trigger.
2. Remove fluid shut-off knob by turning counter clockwise. Remove return spring and spring seat.
3. Using a 5/8 open end wrench or socket, remove rear bushing. Dont lose gasket, it can be reused.
4. Using a 3/8 open end wrench remove needle seal packing nut. The needle assembly can be removed thru back of gun.
5. When replacing spring seat, the long end goes inside spring for operating pressures below 1000 psi. For operating pressures above 1000 psi short end of spring seat goes into spring.
Replacing gun seat:
1. Remove air cap and fluid tip. Using a 1/2 socket, remove fluid nozzle body.
2. Using a 3/32 rod or the end of the needle assembly push the seat and seat retainer out of nozzle body.
Replacing gun filter:
1. Using a 3/4 open end wrench, remove filter retainer nut and separate upper and lower filter housings exposing the filter. It is not necessary to disconnect fluid hose to change filter. Note: Gun is equipped with a 100 mesh filter. 60 mesh filters are also available.