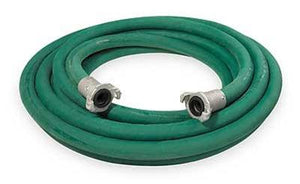 This 16 foot coupled 2-braid blast hose has a ½" inner diameter (ID) and 1-3/16" outer diameter (OD). This hose is rated at up to 175 PSI working pressure and can be used with all common abrasive blast media. The 2-braid blast hose package contains aluminum holders and couplings specific to this hose.
2 Braid hoses have a thicker, more durable outer casing than supa hose yet are more flexible than 4-ply. This hose is perfect for industrial settings where maintenance-stress and abrasions are common. 
This package includes a CHE-1/2 aluminum holder (Clemco 00577) and CQA-1/2 aluminum coupling (Clemco 00599).