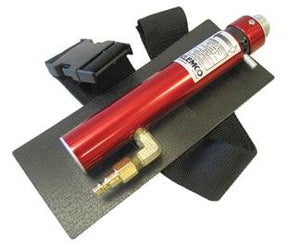 The Clemco Climate Control Tube allows you to warm or cool the air fed to your respirator.
20 cfm at 90 to 100 psi of Grade D quality breathing air as defined by the Compressed Gas Association Commodity Specification: G-7.1 (www.cganet.com)
Pressure requirements vary with hose length.
25 ft - 75 ft 90 psi
100 ft - 125 ft 95 psi
150 - 200 ft 100 psi
NOTE: Do not exceed 200 ft of respirator hose with this device.
Certifications and Approvals
The Climate Control Tube is approved by NIOSH for use only with Clemco Apollo HP high-pressure Type CE supplied-air respirators (not for use with low-pressure respirators).
The Climate Control Tube is one component of a NIOSH-approved system; use of counterfeit parts voids the NIOSH approval.
To maintain NIOSH approval, use only genuine Clemco Apollo replacement parts.
Available Literature:
21966 - Climate Control Tube
21965 - Cool Air Tube
07764 - Operator Safety Equipment Brochure