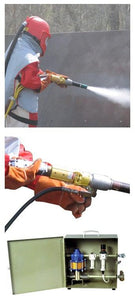 The Clemco Wetblast injector system is added to your existing sandblast pot and uses a standard city water connection to pressurize the water creating a vapor blast system while using your existing blast pot.  Please Specify your thread type on order or call for assistance.
Blast Pot must be 2 Cubic Feet or larger
The Wetblast Injector System is added to your existing 2 Cubic Foot or larger blast pot to enable you to use your blast pot as a wetblast outfit.  This gives you vapor blasting benefits at a much better price.  Additionally you do not have to worry about media packing out in the blast line due to wet media being left in the blast pot.
Package Includes
50 Feet of hose
Nozzle adapter to inject water
Available Literature:
09321 - Wetblast Injector Systems