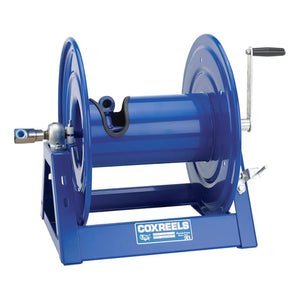 COXREELS® 1125 Series (high pressure) hand crank hose reels have the features demanded by industry professionals. The industry preferred design features a sturdy one piece all welded "A" frame base, low profile outlet riser and open drum slot design provides a non-crimping, flat smooth hose wrap.
SIGNATURE FEATURES
Professional grade heavy duty steel construction
Rolled edges & ribbed discs provide strength & safety
Leading 2-year manufacturer's limited warranty
Made in the U.S.A. - Sold & Supported Worldwide
SWIVEL - Electroless nickel plated steel 90° full-flow NPT swivel inlet.
CNC SPUN DISCS - Heavy duty CNC robotically spun and ribbed discs with rolled edges for greater strength, durability, hose protection, and operator safety.
OUTLET RISER - Exclusive low profile outlet riser and open drum slot design provides a non-cimping, flat smooth hose wrap.
"A" FRAME - Sturdy one piece, all CNC robotically welded 12 Gage steel "A" frame base, not bolted, for superior reel structure. Mounting pattern located in the steel base for easy reel installation and detachment.
PERMANENTLY LUBRICATED BEARINGS - Sturdy permanently lubricated and self-aligning pillow block bearings for smooth rotation and trouble-free operation.
OTHER FEATURES INCLUDE - long lasting, chip resistant and rust inhibiting CPC powder coat finish, adjustable tension brake prevents free wheeling and front bevel geared crank for easy mechanical retraction.
87442325539
82843140131
301690323135
82891472931
83588841507
235910758591
82843172899
92588605475
1/2 inch
100 ft.
17.63"(L)
18.75"(H)
19.5"(W)
200 ft.
25.5"(W)
31.5"(W)
325 ft.
37.5"(W)
41.5"(W)
450 ft.
500 ft.
5000 PSI
Air
bf2023
Carbon Steel
Floor/Wall and Vehicle Mounting
Hand Crank
Jetting
not canada
Pest Control
pmax ad hose reels
Pressure Washing
spo-default
spo-disabled
;