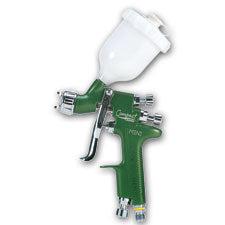 Compact MINI - Round Spray

The Compact MINI incorporates sensitive fan control into the comfort of a full-size gun. This gun has the pattern range and versatility needed for a top quality fine finishing, including touch-up applications.

A fine finish spray gun with many practical uses throughout general industry, ergonomically styled for comfort.

Trans-Tech Compliant air caps provide superior atomization of both solvent and water based materials.

Stainless steel fluid tips and needles

Balanced air valve design for lighter trigger pull and improved air flow

Lightweight, strong, forged aluminium gun body

A quality screw top anti-static gravity feed cup with 125 mls. capacity

Optional semi-disposable or disposable cups are available
87442325539
82843140131
156000714775
92776923171
286263345343
301690323135
298592010431
82895437859
93007708195
298591682751
82843172899
82899959843
159239995415
0.8 mm
bf2023
Gravity Fed
pmax ad paint spray guns
Solvent Based
spo-default
spo-disabled
Touch Up Gun
Trans-Tech Compliant Air Cap
Water Based
;