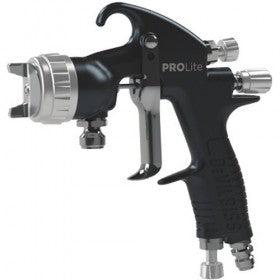 DeVilbiss 905128 DEV905128 PROLite Pressure High Efficiency Gun Kit, 1.2mm (No cup)
Perfect for any climate and paint, the DeVilbiss PROLite spray gun delivers exceptional performance and color match capabilities for today's automotive refinish coatings that can be difficult to atomize, such as low VOC, high solids, pearls or metallic materials.
This PROLite performance is achieved utilizing high-capacity air passages and a linear air valve to provide unrestricted, even flow of compressed air through the gun body, enabling the precisionengineered air caps to produce superior atomization with consistent droplet distribution throughout the entire spray pattern.
PROLite is precision built using the highest quality materials for a longer working life. The forged aluminum body features QuickClean™ coating with non-stick properties that reduce clean up time. The high-grade stainless steel fluid nozzles and needles, plus nickel plated brass air caps all contribute to a gun that will last in the most extreme professional spray environments. When routine maintenance is needed, the easy-to-maintain design ensures minimum production downtime. In approval testing with paint company technicians over the last decade, the PROLite has consistently met the highest color match standards, ensuring that you get the job done right - the first time and every time.
Lightweight and comfortable handle design with reduced trigger travel to decrease operator fatigue
Uniform atomization and spray pattern for ease of application
Advanced range of air cap technology for exceptional application performance with the latest waterborne and solventborne coatings
Environmental legislation-compliant atomization with high transfer efficiency resulting in significant paint savings
Forged aluminum gun body with unique QuickClean™ coating and a removable air baffle for a longer working life