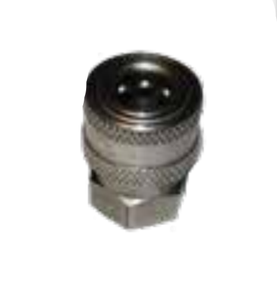 Designed for use where minimum pressure drop is required and valving is not needed. Well suited for use on pressure wash, steam cleaning, and carpet cleaning equipment and many fluid transfer systems.
FEATURES
:
Ball lock
manual operation
Smooth bore permits free flow of liquid.
WARNING: over-pressurization could result in a sudden failure of the coupling, causing severe bodily injury or death. Be sure to select the proper coupling for your application and use it only within the specifice service pressure range.

WARNING: couplers DO wear out. In order to avoid severe bodily injury or death, couplings must be routinely checked and replaced if necessary.