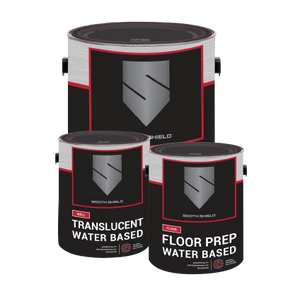 Water based Clear Peelable Paint Booth Coating
USE/BENEFITS
Peelable Translucent Water Based protects paint booth surfaces from hazardous overspray accumulations. It is a temporary coating that is removed during booth maintenance and a new coating can be applied. Peelable
Translucent features:

Peelable Translucent protects glass, lights, windows and white powder coated booths with see-through clarity
Water based, nonflammable, nonhazardous, environmentally friendly, low VOC and easy cleanup
Freeze/thaw stable and heat resistant
Recommended for powder coated steel and stainless steel booths (refer to product limitations)
Strong film peels easily. Recommended for masking applications
HEAT RESISTANCE
Heat tested for 300 cycles ranging from room temperature up to 180°F (82°C) for 30 minutes.
SURFACE PREPARATION
Minimum surface preparation includes:

Remove surface contaminants including dirt, grease, oil, soap residue, wax and loose paint. The booth surface should be clean and smooth in order for the booth coating to peel properly.
Remove paint overspray and buildup, if present, by scraping or wire brushing.
Use Wall Prep Water Based to fill in the scratches and surface defects to provide a uniform base for the booth coating to peel from. Refer to the Booth Shield Wall Prep product data sheet (PDS) for additional information.
Scrape glass surfaces with razor blades or clean them with soap and water, alcohol or lacquer thinner.
APPLICATION
Apply when the air, product and surface temperatures are above 60°F (15°C) and at least 5°F (3°C) above the dew point. Do not reduce. Increase fluid pressure to improve atomization.
DRY TIME
Peelable Translucent Water Based (when applied at 1.5 mils dft) dries in approximately 30 minutes at 77° F (25° C) and 50 percent relative humidity. Dry times will be extended by high humidity, cold temperatures and increased film thickness. Peelable Translucent is milky when wet, but dries clear. Turn on lights and booth exhaust to accelerate dry.
PRODUCT LIMITATIONS

Booth Shield Peelable Translucent is intended for use on white powder-coated steel booths and to protect lights and windows
Surfaces other than clear glass should be pretested prior to application for peelability
Thick overspray accumulation or "shell hardening" requires four times the recommeded thickness and Wall Prep Water Based for nominal release
Frequent booth maintenance is recommended
Cure times are increased by cold temperatures, increased film thickness and high humidity.
Contact GFS Technical Services for additional information.
CLEANUP
Clean equipment with warm, soapy water until clean. Spills can be cleaned up with rags and disposed of in accordance with local, state and federal regulations.
SAFETY
Protect from freezing.
Warning!

Do not take internally
Close container after each use
KEEP OUT OF REACH OF CHILDREN
For industrial use only
Consult Peelable Translucent Water Based safety data sheet (SDS) for addtional warnings and precautions
87442325539
82843140131
301690323135
298998399167
298998300863
82843172899
297295347903
235215225023
all other products
bf2023
spo-default
spo-disabled
;