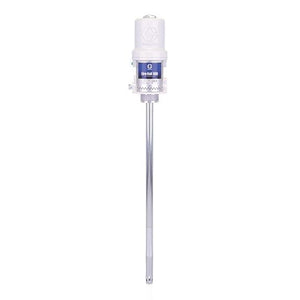 As the mainstay pump in the industry for decades, the reputation of Fire-Ball is unrivaled. Built to withstand the test of time with fewer moving parts, our flagship pump is built to extend uptime so customers can be more productive. The durable pumps are renowned for their durability, with pumps built decades ago still operating efficiently.
Install the Fire-Ball 300 50:1 in grease dispense applications.
Reliable Flow - A 3 inch (76.2 mm) differential air motor and the double-acting pump design provides reliable fluid flow and accurate dispense.
Durable - Thick cast aluminum air motor housing offers unmatched durability.
Fewer Repairs - Fewer moving parts in the air motor assembly means less downtime and low repair cost.
Extended Seal Life - In-line pump design aligns the air motor piston and fluid piston rods to maximize seal life.
Reduce Downtime - Displacement rods have minimal wear due to a proprietary Graco manufacturing process.
Superior Sealing - Non-metallic poppet valves offer positive sealing performance, even with contaminated "dirty" air environments for long life without repair.
Reduced Icing - Large air porting design provides efficient use of compressed air supply for continuous pump operation and reduced icing.
Corrosion-Resistant - Corrosion-resistant design utilizes liquid salt nitriding, nickel plating, stainless steel, aluminum and chrome on key components for longer life.
 Technical Specification
Air Inlet Size (in)
3/8
Air Inlet Thread Gender
Female
Air Inlet Thread Type
NPT
Air Motor Effective Diameter (in)
3
Application
Industrial
Compatible Material
Grease
Cycles Per Gallon
345
Fluid Inlet Thread Gender
Female
Fluid Inlet Thread Type
NPT
Fluid Inlet Type
Slotted
Fluid Outlet Size (in)
1/4
Fluid Outlet Thread Gender
Female
Fluid Outlet Thread Type
NPT
For Use With
Grease
Maximum Air Consumption (SCFM)
22.8
Maximum Air Inlet Pressure (psi)
140
Maximum Continuous Cycle Rate (CPM)
76
Maximum Intermittent Cycle Rate (CPM)
76
Maximum Working Pressure (MPa)
58
Maximum Working Pressure (psi)
8400
Power Type
Pneumatic
Pump Ratio
50:1
Sound Power Level (dB(A))
85.6
Sound Pressure Level (dB(A))
77.8
Type
Pneumatic Piston Pump
Weight (lb)
22
Wetted Material
Steel, Brass, Aluminum, Acetal, Nitrile Rubber, Polyurethane
87442325539
82843140131
301690323135
173463437335
82843172899
all other products
bf2023
canada
not canada
spo-default
spo-disabled
;