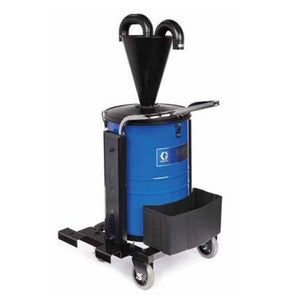 Graco Cyclone 32 Gallon Separator Vacuum Filter – 25M862
The Cyclone 32 Separator is the contractor choice as an inline filter for the Graco LazerVac systems to collect larger debris before they get into the vacuum filter.
Can be used with any Graco LazerVac in order to reduce the frequency of filter changes.
The Cyclone 20 Separator is recommended to be used with the LazerVac 230 & LazerVac 330.
Use Cyclone 32 Separator for LazerVac 550.
Graco Cyclone 32 Gallon Separator Vacuum Filter Features:
Cyclone Design – Remove large debris before it gets to the vacuum filter.
This reduces filter clogging, allowing you to work for extended periods of time.
All Steel Construction – The heavy duty design helps to endure harsh jobsite environments.
Large Capacity – Holds up to 32 Gallons at a time.
Comes with Caster Wheels for easy maneuvarability.
87442325539
82843140131
301690323135
173463437335
82843172899
all other products
bf2023
canada
not canada
spo-default
spo-disabled
;