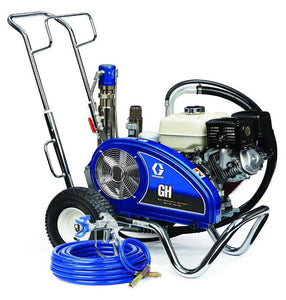 The Graco GH675DI BIG150, Model #25D225 is the Complete Package that comes with:
1/2″ x 150′ Xtreme Duty Hose
3/8″ x 10′ Xtreme Duty Whip Hose
XTR Gun
Tips & Guard
30″ Tip Extension
180 Degree Tip Swivel
The GH 675DI combines maximum power and performance in a compact and highly portable package.
When it comes to hard-to-atomize materials, look no further than the new DutyMax GH 675DI. Offering 6750 PSI of pressure, it handles hard-to-spray materials such as Silicone and other waterproofing and protective coating materials with the convenience of a small gas powered sprayer. Plus it's easily transported in a small truck and easy to position where you need it. Like right on the roof, for example.
Small Size – Ultimate Portability! Whether it's your first silicone rig, or a smaller setup where your Big Rig cannot go, the DutyMax GH 675DI gets the job done.
Maximum pressure of 6750 PSI
Flow rates up to 1.5 GPM
Simple cleanup and economical using less solvent than other Big Rigs
Faster than manual rolling or squeegee applications
More consistent spraying over the entire surface
Converts to 3300 PSI @ 3 GPM with optional kit (see Part# 17V188)
Conversion kit allows to spray both Silicone and Acrylics!
Removable engine for ultimate mobility when moving.
87442325539
82843140131
83533627427
173463437335
82843172899
295017971903
.041
1 Gun
1.5 GPM
10 ft. Whip Hose
50 ft. Hose
6750 PSI
all other products
canada
Cart Type
Honda Engine
map price
not canada
Pull Start
Solvent Based
spo-default
spo-disabled
;