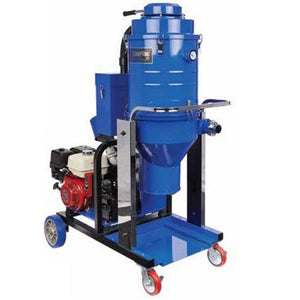 Graco LazerVac 550 Gas Powered Vacuum Cleaner – 25M860
The LazerVac 550 is the contractor choice for every large scarifying job that requires dedicated Vacuum systems to meet OSHA's safety requirements.
Can be used with any Graco GrindLazer and most standard scarifiers with vacuum ports.
LazerVac vacuums include a filter-cleaning mechanism and meet 99% efficiency requirement of OSHA 1926.1153 for outdoor use with walk-behind milling machines and floor grinders.
Also can meet requirements of 25 CFM minimum per inch of grinder wheel for non-mortar handhelds.
For electric versions see LazerVac 230 & LazerVac 330.
Graco LazerVac 330 Electric Vacuum Cleaner 230V Features:
OSHA Compliant Filtration – Removes silica dust, resulting in a safer environment.
Auto-Filter Cleaning – Dual paddles are operated by a separate motor to knock down debris from the filter while you work, preventing filter clogs.
Toolless Filter Design – quickly change the filter out while on the job site.
Comes with 1 x short around 5′ Vacuum Hose & 1 x long around 30′ Vacuum Hose.
Recommended to be used in conjunction with Cyclone Separator.
60% More Vacuum Pressure compared to LazerVac 230.
Longopac Bag System – Continous dust containment means less exposure to silica dust while offering large capacity for longer runtime and less downtime.
Manufacturer Specifications:
AirPower: 2045 Air-Watts
Air Flow: 300 CFM
Vacuum Pressure: 150″ Water
Capacity: 20 Meter long bag
Engine: 13HP Honda
87442325539
82843140131
301690323135
173463437335
82843172899
300 CFM
all other products
bf2023
canada
spo-default
spo-disabled
;