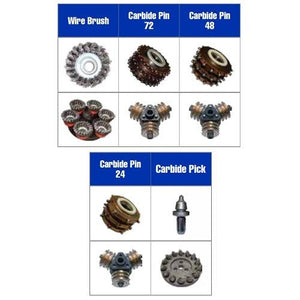 Note: Only fits RC71E Handheld GrindLazer.
The GrindLazer RC71E supports Steel Star, Carbide Star and Carbide Flail Cutters.
These are fully assembled drums for easy replacement.
Available Assemblies:
25M915 – 7″ Fine Carbide Flail Drum
25M911 – 7″ Medium Carbide Flail Drum
25M919 – 7″ Fine Steel Star Drum
25M917 – 7″ Medium Steel Star Drum
25M931 – 7″ Fine Carbide Star Drum
25M929 – 7″ Medium Carbide Star Drum
SKU: RC71-DRUM
Prop 65 Warning!
This product can expose you to chemicals which are known to the State of California to cause cancer.