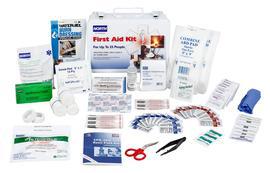 The 25 Person First Aid Kit meets the new ANSI standards. The kit is Class A and features a durable metal case.
Steel Bulk First Aid Kit Kits contain economic bulk supplies that can be readily accessed when needed. They are ideal for manufacturing settings where a wide variety of first aid items are required.
North's first aid stations provide the largest quantity and assortment of first aid and medical supplies for most minor injuries, aches, and pains.
Ideal for large office or manufacturing settings, they offer a large supply of over the counter oral medications for relief from cold, pain and indigestion.
Most tablet medicinals are non-drowsy and are packaged in TAMPER EVIDENT single-dose units.
All stations contain CPR barriers and trauma dressings.
All North first aid stations are ANSI Z308.1–2009 compliant.
Includes:
Plastic adhesive bandage, 1" x 3" 
Fingertip bandage, cloth
Knuckle bandage, cloth
Adhesive bandage, extra-large, plastic
Adhesive tape, 1/2" x 2 1/2 yds.
Conforming Bandage, 2" x 6 yds., non-sterile
Conforming Bandage, 3" x 6 yds., non-sterile
Triangular bandage, non-sterile
Gauze pads, 2" x 2", sterile
Gauze pads, 3" x 3", sterile
Trauma pad, 5" x 9", sterile
Antiseptic wipes, BZK
Antibiotic ointment pouch
Sting relief wipes
First aid/burn cream w/ aloe
Eye-Lert® eyewash, 1 oz.
Eye pad, sterile
CPR Filtershield™
Forceps, pointed, plastic
Scissors, angled, red handle
Instant cold pack
Medical gloves, synthetic
First aid guide
82843140131
301690323135
82843172899
10 in
25-Persons
3 in
7 inch
all other products
ANSI Z308.1–2009
bf2023
canada
not canada
spo-default
spo-disabled
Steel Kit
Waterproof Kit
;