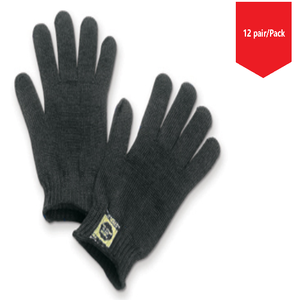 Tuff-Knit KV™ strength for superior cut, slash and heat resistance. Used to make bullet proof vests, KEVLAR brand fibre us 5 times stronger than steel on an equal weight basis, and has high tensile strength that protects hands during hazardous applications.
Features

KEVLAR fibre is flame resistant and will withstand temperatures up to 480°C without breaking down.
Seamless construction eliminates tearing or splitting along seams.
Ergonomically correct design for greater productivity and less hand fatigue.
Grime Guard treatment inhibits water and oil penetration for longer wear and greater comfort.
Ideal for light duty applications.
Applications

Sheet metal
Glass Handling
Canning and recycling
Welding
Injection moulding
Automotive manufacturing
Steel manufacturing
Precision assembly
DuPont™ and KEVLAR® are trademarks or registered trademarks of DuPont™ or it's affiliates.
Laundering: Dry cleaning is the acceptable cleaning method for gloves of 100% KEVLAR® fiber with leather palms. Some differences in shrinkage, weight loss, yarn tensile strength, and colour related to staining or the cleaning method may be seen, but there is no significant impact on cut resistance up to 30 cleaning cycles (without industrial use between cycles). Thirty cleaning cycles is considered to be more than can be expected because of normal wear. Do not launder gloves that have been in contact with toxic chemicals.
 WARNING:
Cancer and Reproductive Harm www.P65Warnings.ca.gov/product
THIS DOCUMENT PROVIDES AN OVERVIEW OF PERSONAL PROTECTIVE PRODUCTS AVAILABLE FROM SPERIAN PROTECTION AND CARE HAS BEEN TAKEN TO ASSURE THE ACCURACY OF THE DATA. IT DOES NOT PROVIDE IMPORTANT PRODUCT WARNINGS AND INSTRUCTIONS. SPERIAN PROTECTION RECOMMENDS ALL USERS OF ANY PERSONAL PROTECTIVE EQUIPMENT UNDERGO THOROUGH TRAINING, AND THAT ALL WARNINGS AND INSTRUCTIONS PROVIDED WITH THE PRODUCTS BE THOROUGHLY READ AND UNDERSTOOD PRIOR TO EACH USE. FAILURE TO READ AND FOLLOW ALL PRODUCT WARNINGS AND INSTRUCTIONS COULD RESULT IN SERIOUS INJURY.

82843140131
301690323135
82814992419
82843172899
12 pairs
A2
Abrasion Resistant
all other products
Automotive
bf2023
Black Glove
canada
Canning
Cut Protection Gloves
Cut Resistant
Full
Glass Handling
Kevlar Lining
Kevlar Material
Kevlar(R) Material
Knit Wrist
Leather Palm
Level 1
Level 4
Metal Stamping
not canada
Sheet Metal
spo-default
spo-disabled
Tear Resistant
Unlined
;