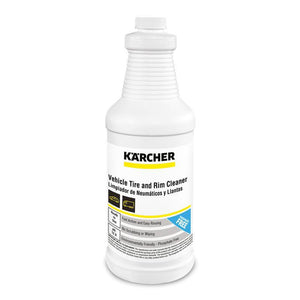 Vehicle Tire and Rim Cleaner

Vehicle Tire and Rim Cleaner is a fast and easy way to deep clean the black rubber, road film and brake dust soils from your tires and rims. Simply spray, wait and rinse. This product should be used to clean tire and wheels before adding tire dressing. Make tire dressings look better and last longer. Safe to use on all tires. Safe for steel and aluminum wheels, including coated wheels.

Benefits

Fast Action and Easy Rinsing
No Scrubbing or Wiping
Environmentally Friendly – Phosphate Free
Dilution Ratio: Ready to use

Certifications
Kosher Certified for use year round, not including Passover.
Smog & Ozone in accordance with AQMD Rule 102, this product contains 0% photochemically reactive ingredients to contribute to smog or attack the earth's ozone layer.
VOC. This product contains 0% California Consumer Products VOC.

Directions: INDUSTRIAL USE ONLY. Read the Safety Data Sheet thoroughly before using this product. Apply Vehicle Tire and Rim Cleaner foam generously to wheel and sidewall of tire. Allow 1 minute of dwell time. Rinse off forcefully, using garden hose nozzle, or pressure washer. Dry the wheel with soft towel or microfiber cloth, to avoid water spotting. Avoid use in hot direct sunlight.
Safety
HMIS Safety Rating: Health 2
HMIS Safety Rating: Flammability 1
HMIS Safety Rating: Reactivity 0
Personal Protective Equipment B
Technical Data
Color: Colorless, clear
Scent: None
Foam 1-5: 5 = High
Reaction in Hard Water 1-5: 3 = Average
pH at Full Strength: 12.9