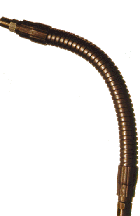 BEND IT! TWIST IT! TURN IT!
KEEPS ITS SHAPE UNDER PRESSURE

Spray Flex bends in any direction.

Unlimited applications for those hard to reach areas.

Excellent for cleaning eaves without getting wet.

Safely clean pitched roofs.

Clean engines from all sides, not only from the top.

Use your pressure washer more efficiently with more control and greater comfort for the operator.
Specifications
Works with any tip.

5000 PSI maximum pressure,

Attaches easily to any wand,

1/4" FPT x 1/4" MPT,

190 F. maximum.
WARNING: These products can expose you to lead, nickel and chromium which is known to the state of California to cause cancer and birth defects and other reproductive harm. For more information go to www.P65warnings.
ca.gov
296175763647
82843140131
301690323135
82843172899
82890752035
all other products
bf2023
canada
spo-default
spo-disabled
;