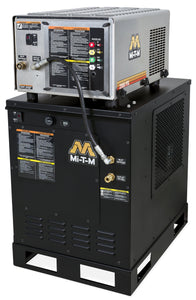 HAE Series All-Electric Belt Drive - HAE-2503-0E4G
The all-electric HAE Series offers a fast and effective cleaning method without the emission of fuel and exhaust fumes. A revolutionary heat exchange cartridge design provides consistent on-demand hot water perfect for cleaning food and beverage facilities.
Pump:

Factory preset unloader
Stainless-steel and brass unloader valve
Forged brass manifold
Thermal relief valve
Motor:

Open drip-proof electric motor (HAE-2503-0E4G)
On/Off power switch
Frame: Stainless-steel base and frame with rubber isolators

Component: Time delay shutdown

Heat Exchanger:

Used for consistent and efficient on-demand hot water
120°F to 130°F temperature rise above in-take water, obtained within 3 to 5 minutes
Adjustable thermostat
On/Off power switch
Powder coated steel frame
Revolutionary cartridge design
Low maintenance, stainless-steel coils in aluminum casings for maximum efficiency
Eliminates constant cleaning
Eliminates heat loss
Unit Includes:

Quick connect nozzles - 0°, 15°, 25° and 40°
External downstream detergent injector, AW-8400-0021, with detergent nozzle
50-foot x 3 ⁄8-inch high pressure black hose with quick connects, 5800-PSI rated, R2
Professional-grade insulated trigger gun with safety lock-off
Adjustable pressure insulated dual lance
Limited Warranties:

1 year electric motor
10 year General pump
Certification:

CSA Certified - US and Canada
HAE Series Heat Exchanger Design
The dual coil heat exchanger design allows each cartridge to heat the water twice, keeping the internal heat of the cartridges
constant throughout the system. Heat is transferred into the aluminum casting so the heating element does not come into
contact with the water. Since the water does not have direct contact with the heating element this eliminates calcium and
build-up on the coils.

The HAE Series is designed to eliminate one of the industries most common problems. Direct contact of the water to the heat element that drastically shortens the life of the element.
The tubing that carries the water through the heating element is made up of 316 stainless-steel which is the preferred spec of the industry.
The alternate water flow through each heat exchanger allows for even heat distribution across each exchanger.
The HAE Series heat exchanger system eliminates the water/oil bath maintenance and the stagnant odor of most competitive designs.
The HAE Series will develop 20% higher temperature rise versus most competitive designs and maintains a constant temperature required to satisfy the performance needed to efficiently complete any hot water application.
87442325539
82843140131
301690323135
83594182691
85934768163
298060480703
82843172899
2.8 GPM
2500 PSI
460V
66.0A
6HP
all other products
bf2023
Electric
Electric Start
Electric/Electric Heater
General
Hot
spo-default
spo-disabled
Triplex Plunger
With
;