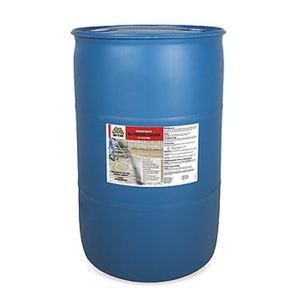 All pressure washer detergents are hard water stable to prevent spotting. Environmentally friendly, they will not harm plants and are biodegradable.

All Purpose Cleaner
All Purpose Cleaner is the most versatile and efficient all-around cleaner. Use on vehicles, glass, stainless-steel, aluminum, painted surfaces and lawn equipment.
Ingredient
CAS#
Function

Water

7732-18-5

Solvent

Butoxyethanol

111-76-2

Cleaning Agent

C9-11 Alcohols Ethoxylated 4-6EO

68439-46-3

Cleaning Agent

PEG-15 Cocomonium Chloride

61791-10-4

Cleaning Agent




Propylene Glycol

57-55-6

Alcohol

Sodium Hydroxide

1310-73-2

Builder
 

Zeolite

89412-12-4

Builder

Acid Blue 145

6408-80-6

Colorant
Directions on how to read Date Code:

Located at bottom, back side of detergent.
First three digits are day of year, next two digits are year. For example 26016 is the 260th day of 2016.
Safety Data Sheets:

https://www.mitm.com/pdf/Mi-T-M_All_Purpose_Cleaner_SDS_4018.pdf