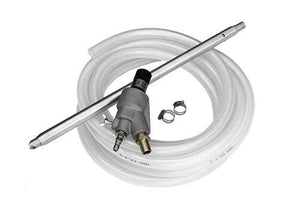 MTM Hydro's Industrial Sand Blast Kit provides maximum cleaning power with dustless sandblasting capabilities. Similar to the MTM Foam Cannons, these Sandblast kits use the venturi effect to draw sand through a hose where it is expelled at high speed against the cleaning surface with pressurized water. Sandblast kits are impressive cleaning devices as long as your orifice is correct and your draw hose stays dry.
Note the MTM Hydro Sandblast kits do not come with nozzles. If you have purchased a Kit and it came with nozzles, these were added by the distributor we sold the kit to. Be sure to either purchase, or use the correct sized nozzle for your machine as this will greatly impact the performance of the Industrial Sandblast kit.
Specs Requirements:
Requires 3-8 GPM Pressure Washer
Requires 3,000-5,000 PSI Pressure Washer
Nozzle must be 0° Threaded nozzle fitting the specs of your machine
Tips:
Use the right sized nozzle!
Make sure your blast media is dry
Keep your draw line (hose) interior dry
Orient the sand barb (hose) to the top of the blast head so the sand drops into the chamber with the help of gravity, this will also limit the amount of water that could run down the hose if it was at the bottom.
Once you start cleaning limit the starting and stopping as this will create valleys of settled blast media in the draw hose and create an inconsistent flow of sand when you re-start.
WARNING
This product can expose you to chemicals, including DINP and/or DEHP which is know to the state of California to cause cancer or birth defects or other reproductive harm, go to www.p65Warnings.ca.gov for more information.
The products we sell are not intended for use in potable water systems and are only for industrial non-drinking water applications.