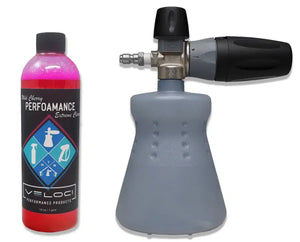 MTM Hydro's Italian Manufactured PF22 Foam Cannon is now offered with our certified Hi-Foam PerFOAMance car shampoo.  Whether you are foaming down your car on the weekend or you are a professional contract cleaner foaming hog barn for hours, this tool will save you time and money.  Simply attach the foam cannon to your pressure washer using one of the included fittings, fill with your desired ratio of chemical and you are up and running.
The MTM Hydro PF22 launched in 2017 as the latest and greatest foam cannon to hit the world stage. The PF22 offers both, adjustable fan blades, and a two stage nozzle allowing you to spray vertically and horizontally. By adjusting the fan blades (narrow or jet) MTM Hydro Foam cannons throw thick foam onto your vehicle, pole barn siding, house, fence, sidewalk, roof or other washable items. The chemical injection knob on top of the PF22 also clicks and allows for precise measurement of more or less chemical to be drawn through the internal chamber, increasing or decreasing the foam output. This allows the internal agitator to create a dense foam that is stickier than the Chinese knock-off foam cannons. In doing so, this thick foam has a longer dwell time which allows the chemical to work on the cleaning surface for longer in its effort to emulsify the dirt and grime. some surfaces may still require some elbow grease, however, if the chemical does its job, very little (if any) scrubbing is required.
NOTE A specific 1/4" Male plug may be required in order to attach the QC plug to the end of some residential pressure washer setups. MTM Hydro 1/4" plugs are standard for industrial use but many residential pressure washers such as Generac, Greenworks, Ryobi, AR Blue Clean,etc... have certain models where the coupler will not receive an MTM plug. Not all of these brands are impacted, just certain models. If you look closely, the Chamfer at the end of an MTM plug as well as the neck is, 1.5mm shorter than some couplers may allow. We now offer this new Low Profile QC plug under item #24.5006. Once you install the correct plug in your new MTM Foam Cannon, you sill see that it was worth finding this specialized fitting as our foam cannons are second to none, even when manufactures try to change their fittings!
Contents of the PF22 Foam Cannon Kit:

Italian Nickel Plated Brass -Single Cast Foam Cannon body
Italian Calibrated 32 oz Grey Bottle
1/4" x 9" tube for drawing chemical
3.5 Orifice (1.25mm) installed in the Foamer Body
3.0 Orifice (1.1mm) included with kit
Fitting pack (2-peices) containing a 1/4" M22 adaptor and 1/4" QC Plated Steel Plug
Manual with care instructions and exploded view
Specs:

Min. 1,100 psi - Max. 5,000 psi
Min. 1.4 gpm - Max. 5.3 gpm
Max. 140°F
Note: The full spectrum of ratings are not supported by the 3.5 or 3.0 orifices included with this kit. Other orifices may be required for higher flow machines that have lower PSI- Example: 2000 PSI with 3.5 GPM requires a 5.0 Orifice. For larger orifices, you will know it does not work because you will experience starting and stopping of the foam cannon as your unloader slips in and out of bypass. You will also get watery foam as the orifice size 3.5 is significantly smaller than the 5.0 needed for your machine. MTM Foam Cannons will not work with flow sensing unloaders as you will experience the same results listed for an under-sized orifice. See below for additional orifice sizes and replacement items available for purchase.
Foam Cannon Replacement Items and Upgrades:

5.0 Orifice (1.5mm) - Part #36.0235
6.5 Orifice (1.7mm) - Part #36.0236
Replacement White Bottle - Part #37.0253
Replacement Grey (PF22) Bottle - Part #37.0451
Replacement 9" Suction Tube - Part #41.0338
Replacement Filter - Part #36.0226
Repair Kit for Original Foam Cannon including O-Rings - Part #41.0400
Repair Kit for PF22 Foam Cannon including O-Rings - Part #41.5001
Karcher Brass Bayonet and fitting - Part #s 24.0459 & 24.0127

 

Purchase both
Karcher Plastic Bayonet and fitting - Part #s 37.0259 & 24.0127*Purchase both*
1/4" x 33' Hose for Foam Jet Kit with Chem Filter - Part #41.0401"

82843140131
301690323135
260899340479
82843172899
140°F
5.3 GPM
5000 PSI
bf2023
not canada
pmax ad foam cannons
spo-default
spo-disabled
spo-notify-me-disabled
;