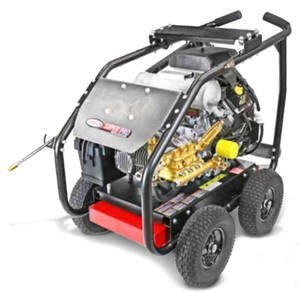 Super Pro Roll Cage Series Professional Large Pressure Washer (SW3080HUGL) by Simpson Cleaning®. Engine Type: Honda™ GX690. Maximum Pressure: 3000 PSI. Flow Rate: 8.0 GPM. Drive Type: Gear. Built for the tough jobs, The SIMPSON™ Super Pro Roll Cage will handle all your commercial needs. The options are endless with models sporting direct, belt or gear drives premium AAA or COMET pumps. The remote unloader with bypass hose provides industrial durability for extended pump life. Pull up to the work area, connect the spray gun, start the engine and begin cleaning.
Features:

3-year commercial engine
5-year commercial pump
10-year commercial frame
90-day limited accessory warranty
Made to meet international standards for quality and safety
Practical, efficient tools to get your job done right
Designed by professionals for professionals and DIYers alike
Simpson Cleaning®, is a world class brand of outdoor power equipment. As one of the industry leading pressure washer brands, Simpson Cleaning goal is to make premium quality products and parts that you can rely on time and time again. Simpson Cleaning pressure washers are engineered, manufactured and sold with the singular purpose of removing dirt, filth, grime and scaling paint from nearly any substrate. They are also designed to handle the grueling task all day, everyday. Simpson Cleaning was purchased by FNA GROUP in 2006. FNA GROUP is one of the most vertically integrated manufacturers of pressure washers and outdoor power equipment. Simpson Cleaning are a vertically integrated company, meaning most of the parts and accessories for Simpson Cleaning machines are manufactured and assembled by Simpson Cleaning.This creates universality and allows Simpson Cleaning parts and accessories to be compatible not only Simpson Cleaning products, but most other pressure washers as well. With over 50 years of experience, Simpson Cleaning understand the importance of power, performance, reliability and have continuously met the needs of paint and cleaning professionals across North America.
87442325539
82843140131
301690323135
157761634327
295005585599
83594215459
82843172899
82841829411
159418056727
298891739327
298891608255
298891509951
87122083875
3000 PSI
8.0 GPM
bf2023
Cage Frame
Gas
Gear Drive
Honda Engine
Honda GX690
pmax ad gas pressure washers
Recoil Start
spo-default
spo-disabled
Triplex Plunger
Udor
;