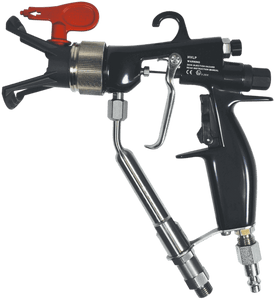 2404548 Titan GM3600 AirCoat Air Assisted Airless Spray Gun (Reversible Tip). 3600 design offers ergonomic comfort and a reversible tip system without sacrificing finish quality. There will always be projects where speed trumps transfer efficiency and yet a fine finish is still the ultimate goal. Even the best HVLP sprayer can t compete with the speed of an air-assisted airless unit and for those jobs new construction woodwork, production-grade cabinetry, etc. where production speed is essential, contractors and finishing professionals turn to the power and precision of Titan airless and air-assisted sprayers.
Features:
Stainless Steel Fluid Passages
Two-Stage Trigger
In-Line Filter
Air Inlet Quick Disconnect
1/4 MNPT Fluid Inlet
Includes Reversible tip
Optional Flat Tip
Spray Pattern Adjustment
Maximum 3600 PSI
0524357 superseded by 2404548.