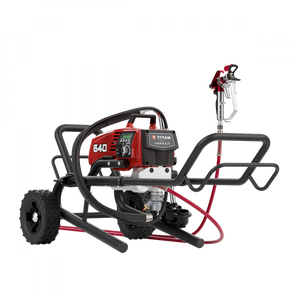 The IMPACT™ 640 continues the climb to increased performance. This mid-range unit is perfect for residential, property maintenance, rental, and light commercial applications and is equipped with digital technology for improved efficiency.
Designed to consistently spray 75-100 gallons per week
Recommended for small and medium residential and commercial projects
Includes RX-Pro Gun, TR1 517 Tip, and 50' Airless Hose
Sprays stains, lacquers, enamels, latex, and other low and medium viscosity coatings.
Features:
Quad + Packings - designed to wipe abrasive coatings clean during operations preventing damage to the piston or the main sealing lip    
Auto-Oiler™ with the push of a button you deliver oil from the reservoir directly to the packings    
Sureflo™ Pusher Valve lets you release a stuck lower ball valve without using a hammer (available on selected units)    
DuraLife™ Brushless HE motor    
Full-size manifold filter    
Easy load cart    
Semi full pneumatic tires
82816696355
87442325539
82843140131
301690323135
159242584087
83533758499
82843172899
82895634467
173463994391
.027
.70 GPM
1 Gun
1.55HP
300 ft.
3300 PSI
50 ft. Hose
bf2023
canada
Electric
Low Rider
Oil Based
pmax ad electric airless
pmax ad electric airless paint sprayers
spo-default
spo-disabled
;