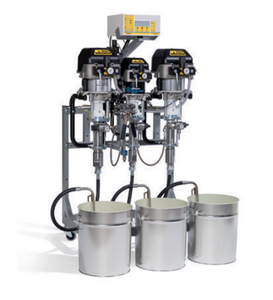 TwinControl 48-110 Electronic mixing and dosing system
Electronic 2K mixing system for AirCoat and Airless applications up to 370 bar. Including flushing pump and fully automatic flushing. Also suited to higher viscosity Protective Coating products. Optional with second paint.
TwinControl is perfect even for critical applications such as abrasive materials, reactive paints, high viscosity materials and high delivery rates. The special software prevents off-ratio spraying and controls all working parameters to ensure a consistent and precise mixing quality

Fast Atomization

No reworks or rejects due to off-ratio spraying
No mixed material left unused. Mix only what is required
Reduction in time for manual cleaning and mixing procedures
Increase in productivity
Substantial reduction in paint waste and solvent consumption
Reduced maintenance
Material consumption monitoring
Main functions

Real time mixing control with off-ratio alarm
Pot-life monitoring with alarm
Automatic flushing process
Real time delivery rate display
Mixing accuracy display
Material consumption monitoring
Pump diagnosis system: pre-alarm and alarm in case of pump malfunction
Gun Flush Box connection optional

Application Areas

Trucks, buses and other commercial vehicles
Protective coatings
Agriculture, construction and earth moving vehicles
Metal industry
Rail cars
Wind turbines
Wood industry
Plastic industry
Processable materials
2K water-based primer
2K solvent-based primer
2K PUR primer
2K PUR paints
2K epoxy primer
2K epoxy paints
2K high solid primer
2K high solid paints
Material wetted parts
Tungsten carbide
Stainless steel
Hard chrome
Packing PE-T / PE-TG
Ordering information
Please order suction hoses separately.
Freely configurable system with the TwinControl finishing configurator.
A wide range of choices, for example a gun flush box, external mixer, or remote control.