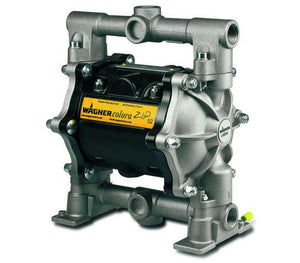 Non-conductive polypropylene versions
ZIP 52 Eco Perfect Flow

The finishing unit is used for WAGNER AirSpray applications. Equipped with air regulators, atomizing air regulator, large filter and the anti-pulsation tank instead of FFC.

Two coupled diaphragms (2) are moving from the left to the right and back by help of pressurized air (3). The steering valve (4) guides the air to the side where the diaphragm is moved to contract the fluid chamber (1). Material is beeing transported by contraction and expansion of the fluid chamber volume and the inlet- and outlet valves (5&6).
Pumped material / material chamber
Long life diaphragm
Pressurized air
Steering valve
Material inlet valve
Material outlet valve
Typical Applications
If you have to stop to refill your cup gun or pressure pot often, then it is time to think about a professional feeding system. ZIP 52 Finishing and ZIP 52 Eco Perfect Flow are perfect solutions for continuous feed of manual and automatic applications in the following markets:
Wood and furniture industry
General metal industry
Plastic finishing
Leather and textile application
Glass coating
Typical Fluids
Stains, primers and fillers
Base- and clearcoats
Solvent- and waterbased paints
2-K materials
High solid materials
UV-paints
Metallic paints
Special effect paints
Glues, adhesives
For materials like heavy primers, glues and thick materials, ZIP Eco Perfect Flow works without the fluid regulator yet still with minimum pulsations. FFC available as an option.