How to Apply BEHR MARQUE® Paint with a Sprayer
BEHR MARQUE® is a popular paint for interiors from drywall to wood. Spraying BEHR MARQUE® provides two main benefits: it can be faster than rolling especially when working on a large area, and it can provide a smoother finish for surfaces like wood cabinets. We  cover specifics of what to do to prep your area for spraying and how to spray BEHR MARQUE® Paint.
Before You Spray – Prep the surface and Area
Prep the Product You're Painting
The surface you will be painting needs to be clean, dry, and smooth.  Whether it's wood or  drywall or steel, the surface should be smooth sanded, and clean.  The BEHR MARQUE® technical data sheet has more info on the proper preparation of the surface. 
The Easiest way – Spray Outdoors
While spraying paint will be faster to apply BEHR MARQUE® paint and will help leave a smoother finish, you must ensure the surface is properly prepped and the area is ready to spray. The easiest way to spray things like cabinets is to use an outdoor area with a shelter to capture overspray like the Wagner Spray Shelter here. If you will be painting interior walls or cabinets in place, then there will be a bit more preparation involved.  
If outdoors is not an option – Spray Indoors 
First, you will want to remove anything in the area so that it doesn't get overspray on it. 
Second, you will want to protect your floors by using a proper drop cloth; the drop cloth can be a disposable plastic-type or reusable canvas type.  
Third, you will want to enclose the area with plastic sheeting; this can be done by securing the sheeting at the ceiling and ground to form a tightly enclosed area so that the spray space is  completely closed off from other areas, thus  preventing overspray from drifting throughout the home.
Spraying BEHR MARQUE® Paint
BEHR MARQUE® can be sprayed with an airless sprayer or HVLP, though it is best sprayed with an airless sprayer. 
To Spray BEHR MARQUE® with an airless sprayer, you can use a low-pressure tip or a standard airless tip, though a low-pressure tip will reduce overspray and help save material.  The tip size will be between 15 and 19 thousandths tip.  For wood painting, whether it's trim or cabinetry, 15 thousandths will be more appropriate.  While for painting a large space like your drywall, a 17 or 19 thousandths tip will be more appropriate.  For wood painting, a 6-inch pattern (315) tip will help make the project easiest while for drywall, a 12-inch pattern will be a more appropriate (517, 519) tip.  BEHR MARQUE® sprays easily with an airless sprayer and will not need to be thinned. You only need about 1800 PSI to spray it well.  To adjust the spray pressure on the airless sprayer, start low and gradually increase the pressure until you see a smooth finish. This will usually be in the middle range of an airless sprayer's pressure control.
Spraying BEHR MARQUE® with an HVLP can also be done but is not the ideal method.  To spray BEHR MARQUE® with an HVLP, you may need to thin the product, the maximum you should thin BEHR MARQUE® is ½ a pint of water per gallon.  If you want to use HVLP, you will need a 4 stage or high HVLP turbine with a number 5 needle in the spray gun. The air pressure will be at full power for HVLP but it will be more efficient than airless sprayer even using it at full pressure. 
Common Problems You May Experience Spraying BEHR MARQUE®
Paint has runs in it -  If you are getting runs in your BEHR MARQUE® finish, you will want to try a smaller tip. 
Paint finish is not smooth – If your paint finish is not very smooth, this is usually due to not using enough pressure on your airless sprayer or HVLP.  If you have the sprayer at high pressure and are still getting the orange peel, you may need to thin the paint some.  
Overall Thoughts
Spraying BEHR MARQUE® is easily achievable with an airless sprayer or HVLP.  For smooth finish projects like wood cabinets, using a fine finish tip will be best.  For general wall painting, a standard airless sprayer tip will be a suitable option.  Before spraying, properly setting up the spray area and product surface is critical to ensure you don't get an excessive mess and you get good paint adhesion.  If you want more info on spraying and getting good results, you can check out our free spray course. 
Sprayers for BEHR MARQUE®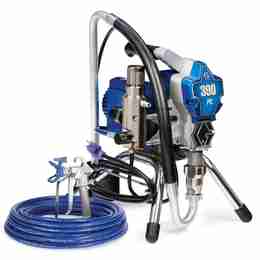 The 390 PC Stand is a solid workhorse built for the professional just "starting out." Lightweight and portable, it's easy to lift and carry. The 390 PC is the ideal sprayer for residential jobs, and is the best value in small electric sprayers.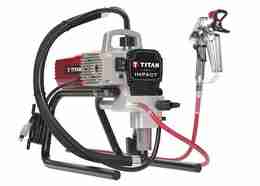 The Impact® 410 is ideally suited for residential, property maintenance, and small commercial applications. This high performance electric airless sprayer will apply all standard architectural primer, paints and coatings efficiently.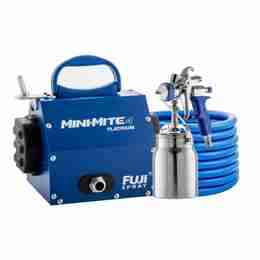 The Mini-Mite 4 Platinum comes with the Fuji T-70 spray gun, which features a pattern control knob to adjust the fan size from small to large. Fuji installs the same powerful four-stage turbine motor as used in the Q4 Models.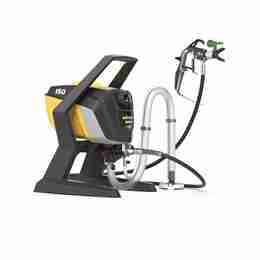 The Control Pro 150 High Efficiency Airless™ takes the fear out of airless spraying, making it easier to paint like a Pro. The HEA system's new tip technology decreases overspray by up to 55 percent while delivering softer spray, improving control and providing a more-consistent finish.